TAKA Original Ambassador Program
If you like to share your amazing content on social media, you should join TAKA's Ambassador programs to earn commission while you creating the content, your primary goal is to make commissions by recommending products so that you wake up in the morning to something like this:
Get out of bed and see that you have $957.60 in your Paypal account from affiliate sale and Multi-level marketing.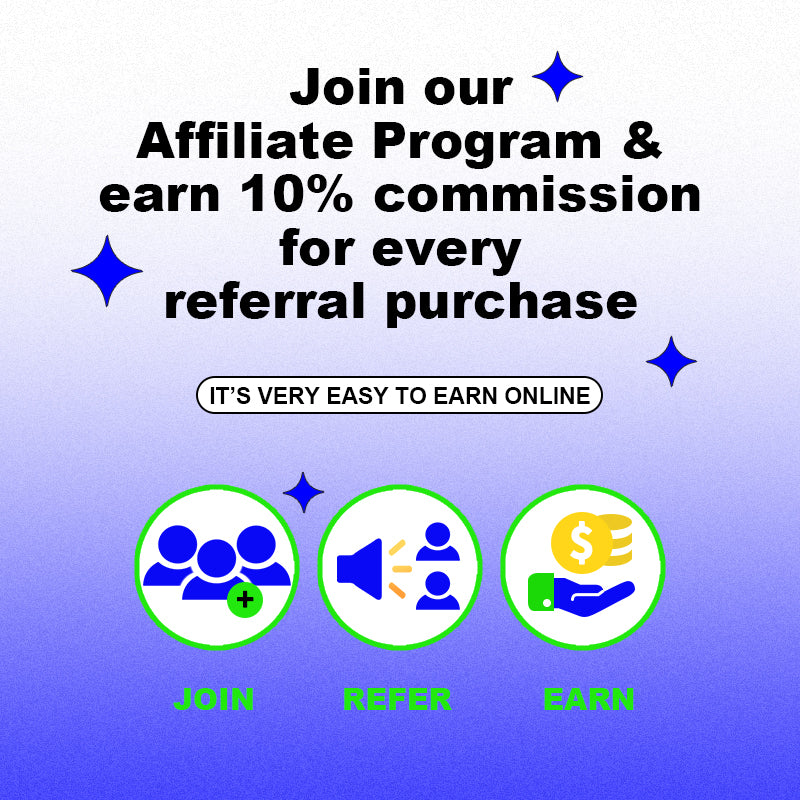 By signing up for the TAKA Original's ambassador program, you get to promote the most fun and energetic pieces . From clothing to life style product, the options are endless.
Your income are derived from two mains sources.
1. By referral:in form of referral orders, shares, or other types of engagement made by customers.
2. By TAKA Ambassador MLM(Multi-level Marketing):which bases on purchases brought by your downline distributors.
Here's what's it mean's for 1.By referral:
After you promoting these product, You get 10% of the total order. For example when a customer purchase $1000 product. You get $100.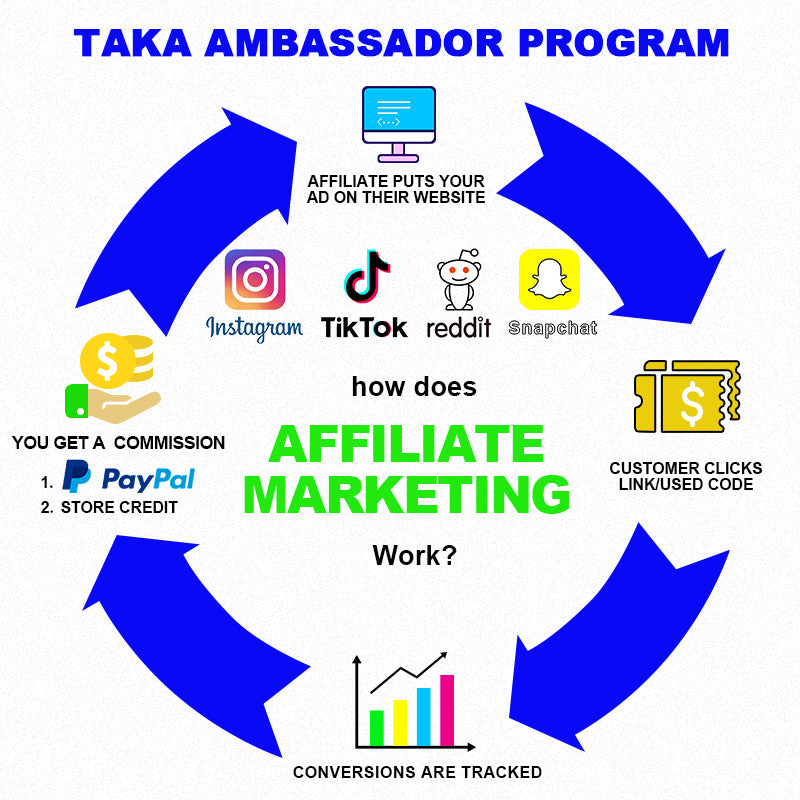 Here's what's it mean's for 2. By TAKA Ambassador MLM(Multi-level Marketing) Which bases on purchases brought by your downline distributors.
For example
You signed up as an affiliate, then you invited Victor. Victor invited Edd and Edd invited Annie. 
MLM allows you to invite and recruit others into the network, thus, your network could reach more potential customers through diverse channels and promotion activities.
For each product they sold. You will earn commission.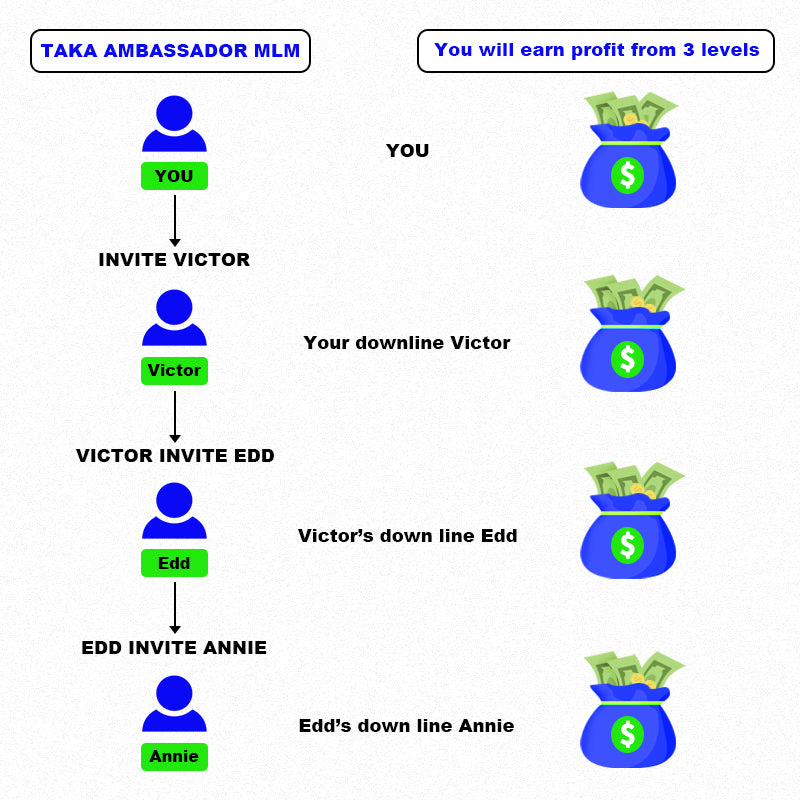 For example
If Annie brings a referral order with the total amount of $1000 and the commission percentage set to the affiliate program is 10%, then Annie (Original affiliate) will get the commission of 10% x $1000 = $100. Other affiliates who are in higher levels will receive network commission as below:
Commission level 1 (Edd who invites Annie) gets 5%,

Commission level 2 (Victor who invites Edd) gets 4%,

Commission level 3 (You who invites Victor) gets 2%,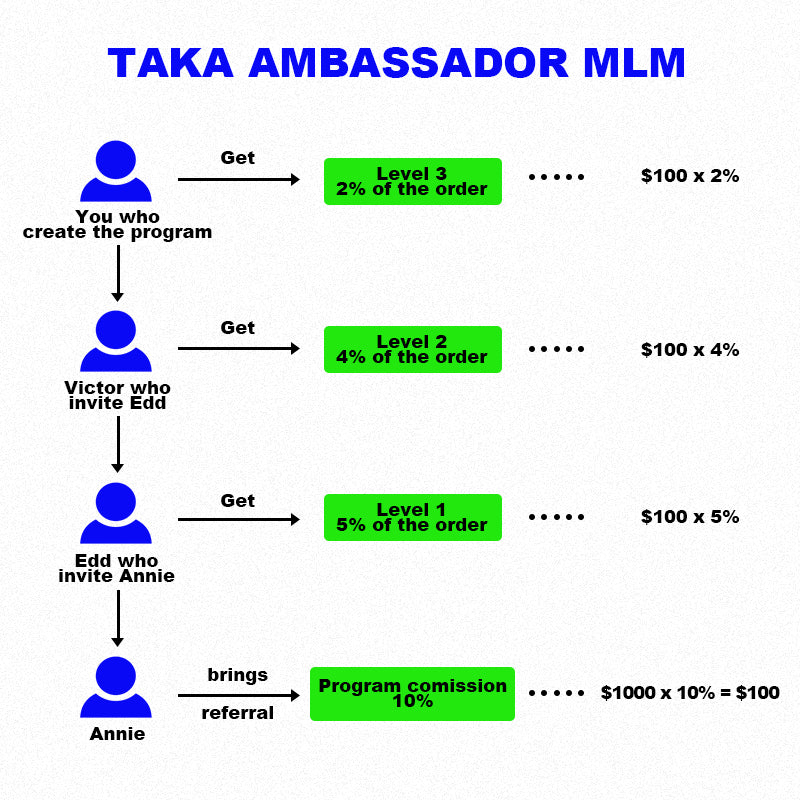 FAQ:
How you received payment?
Easy. We have set up auto payout to PayPal. You will have to sign up and provide your PayPal ID to received the payment.
When a referral order is recorded?
When a customer makes a purchase via your affiliate link (track by cookies 30 days) or using your coupon code. As long as the order is Paid, a referral order will be recorded.
What happen if a customer refund the order?
In case an order is refunded, Our ambassador program Secomapp system will create another referral record with a negative amount to balance with the refunded one.
Affiliate guide + Tips
1.Quick guide for Affiliate to get started.
2.Tips for success(Part 1):Get more resources to promote.
3.Tips for success(Part 2):Attract customers for better conversion.
4.Tips for success(Part 3):Improve your earning and more.
https://docs.uppromote.com/guide-for-affiliate/affiliate-guide-+-tips